Reviews & Pictures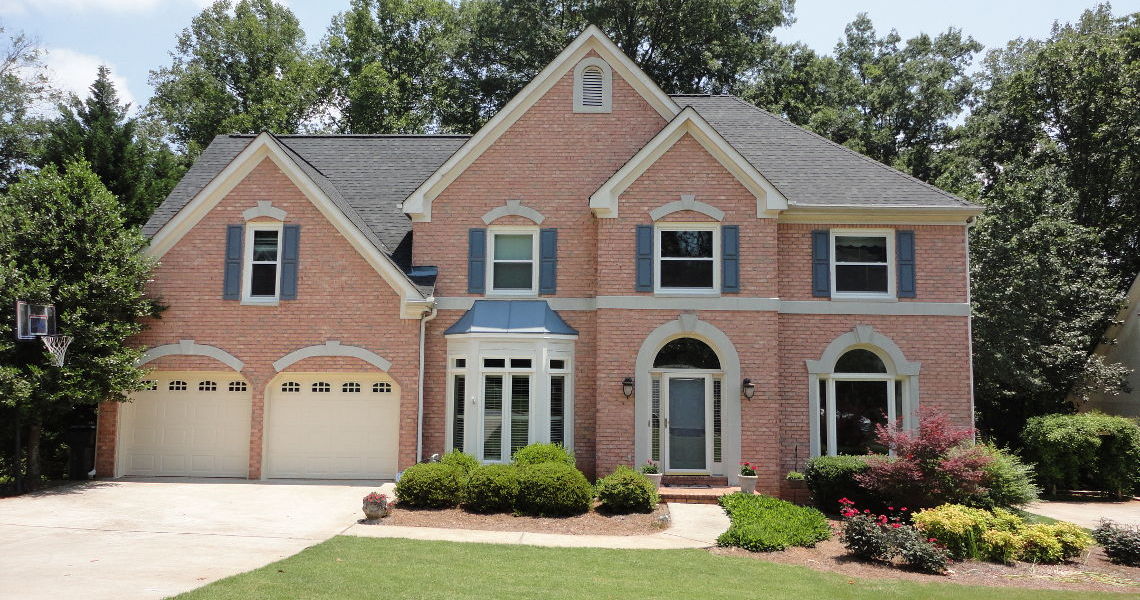 ---

Balboa
Reviews: 2
5 star rating
Outstanding Craftmanship and Service
After reading many reviews, we chose Pinnacle to replace our windows and doors, and we are happy that we did. The entire Pinnacle team is highly professional, and worked with us to ensure that we would be entirely satisfied with their work. * Lee Fuller visited our home to help us decide which window options to select. There was never any sales pressure. Instead, Lee explained the relative merits of different products, and which ones he thought offered the best value and best met our needs. We chose Okna windows, a top-rated manufacturer that guards its reputation by working only with top-quality installers. Pinnacle also offers the highly-rated Softlite windows, but after hearing our particular preferences, Lee suggested that Okna may be the best fit for us. * The installation team of Robert and Kevin Cole was outstanding. Robert is a meticulous craftsman, who took great care that our (37) windows were properly installed (no leaks), that the finished product was both beautiful and weatherproof. * After seeing the superb workmanship of Robert and Kevin on our windows, we elected to have Pinnacle replace our doors, this time with the top-rated Provia products. Again, the craftmanship was outstanding.
PROJECT DETAILS
AREA:
Alpharetta, GA
COST:
$30,000 - $99,999
DATE:
June 2018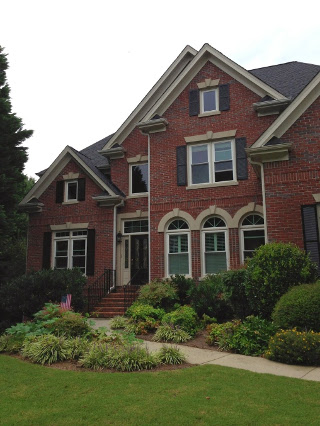 ---

sfjohnson79
Reviews: 1
5 star rating
Wow, what a Job!
I am just thrilled with my new front doors that FIT THE OPENING! I can no longer see the outside around the edges. I am so pleased with Lee Fuller, who came out and took the order, and with the men who installed the doors. I left home shortly after the installers arrived, and returned five hours later. I was comfortable leaving the men to do their work, and I returned to find everything in place. Wonderful!!!
DATE:
August 2018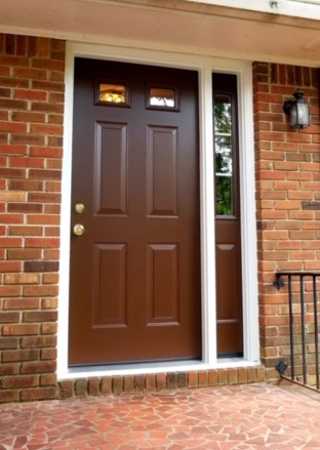 ---
---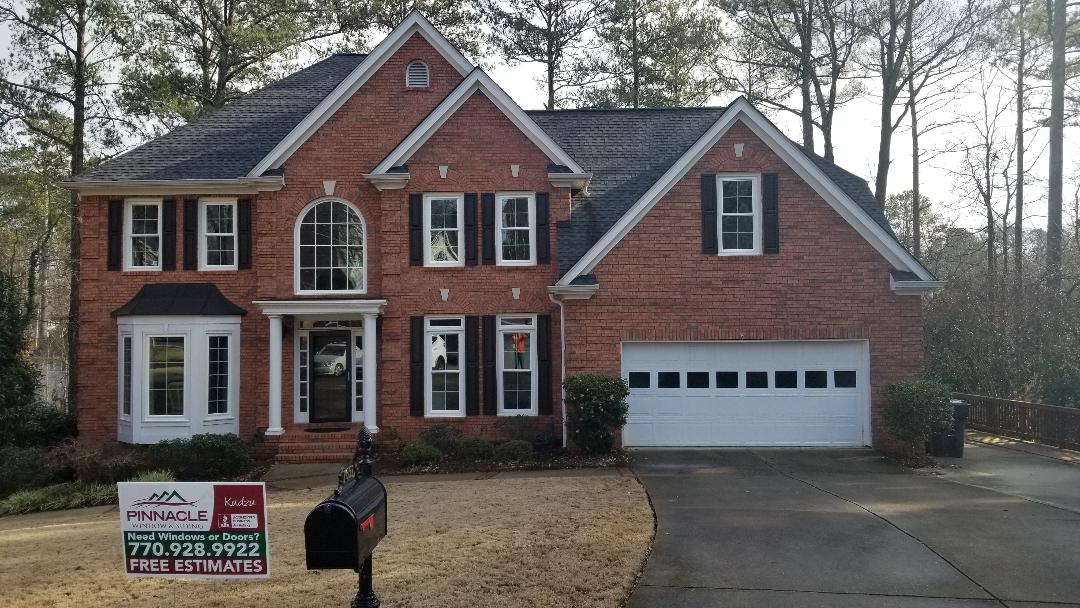 ---

wgsuway1
Reviews: 1
5 star rating
Best in town
I just had 23 windows and 1 regular door and 1 set of French doors replaced by Pinnacle. The entire process, starting with Dennis Williams the sales agent to Hector's team of installers, was such a pleasure. They were extremely professional and did a fantastic job. Their attention to every detail was very impressive. I love my new windows and doors. They have EXCEEDED MY EXPECTATIONS!!! Wayne Suway
DATE:
July 2018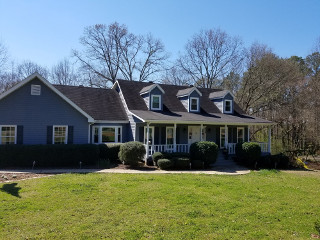 ---
---

karlapauline
Reviews: 1
5 star rating
Fabulous products, fabulous people
Pinnacle Window & Siding has replaced every single window in my 50 year old home. The windows are so easy to clean, and my house feels toasty and warm in the winter and cool in the summer. I just had my patio doors (French doors) replaced on Monday. What a difference! The installation crew arrived on time and actually finished the job in my absence, as I had to transport a grandchild to summer school. Was I comfortable leaving my house for hours while they finished the job? Absolutely! Trustworthy company. Don't hesitate to use Pinnacle Window. High quality products. High quality people. A winning combination.
PROJECT DETAILS
AREA:
Marietta, GA
COST:
$1,000 - $2,999
DATE:
June 2018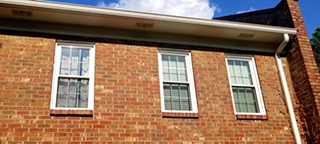 ---

PilotBristow
Reviews: 1
5 star rating
Fantastic Job
To say that I am an extremely happy customer would be an understatement. Hector and his crew came in and installed my new front door. They were all very friendly and courteous. The attention to detail in installing the door is amazing. The part that really got me in the installation of the door is how they handled debris, they were cleaning up behind themselves as they made a mess instead of letting the debris stay there until the end of the job. The door looks great. I received a follow up call from Dennis Williams asking about my opinion on the door, customer service, and my experience with Hector and his crew. This company really cares about it's work, and it's customers. I will definitely be a returning customer for windows. I cannot praise the work enough.
PROJECT DETAILS
Replacement of old front door, which no longer had weatherstripping and was warped.
DATE:
June 2018
---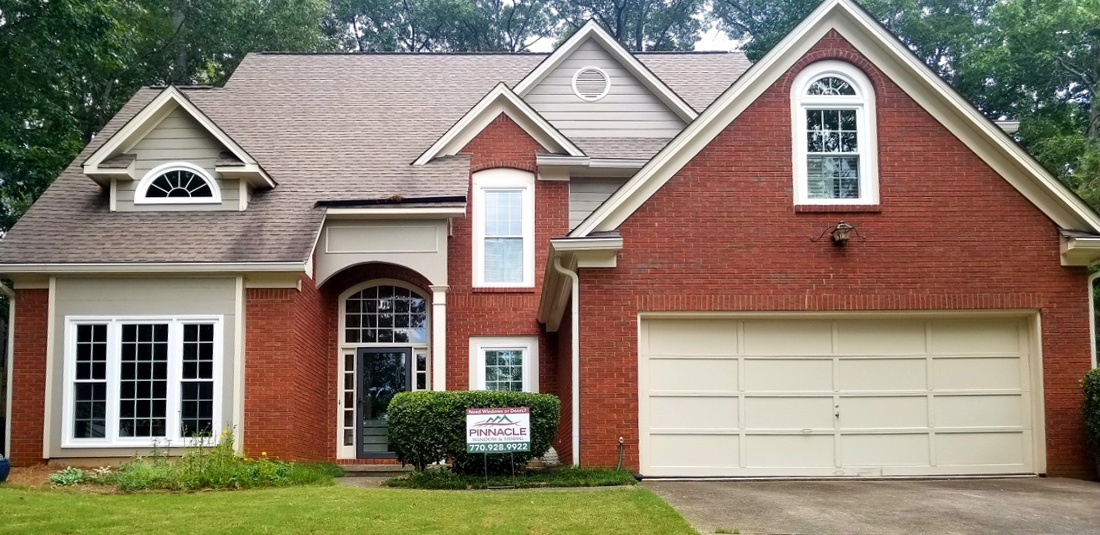 ---

WChuck
Reviews: 2
5 star rating
Excellent new windows
Of all the companies I got quotes from, Pinnacle offered the best deal for installing windows in my condo. The vinyl windows they installed, OKNA 500, are very good quality as opposed to the builder quality windows used by many others. The personnel, from John Fitzgerald the salesman to Hector the installer, were all very professional. The quality of the installation was first rate.
PROJECT DETAILS
AREA:
Atlanta, GA
COST:
$3,000 - $4,999
DATE:
June 2018
---

BD2018
Reviews: 1
5 star rating
Great installing team!
Robert and his team just finished replacing all the windows in our home. They did an excellent job, were extremely clean in their work and all very courteous and friendly. They exceeded our expectations in every way and I highly recommend Pinnacle Window and Siding!
PROJECT DETAILS
AREA:
Marietta, GA
DATE:
May 2018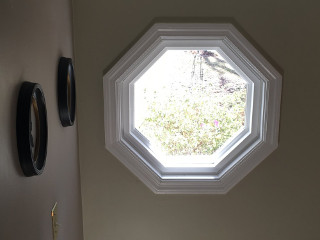 ---

rgpvmi
Reviews: 1
5 star rating
Excellent Work!
We had Pinnacle install 3 windows to replace three worn out windows on the back of our home. They did all the work in one day. The windows look great! They did a great job with the clean up after they were done. The whole process went very smoothly.
PROJECT DETAILS
AREA:
Canton, GA
COST:
$1,000 - $2,999
DATE:
March 2018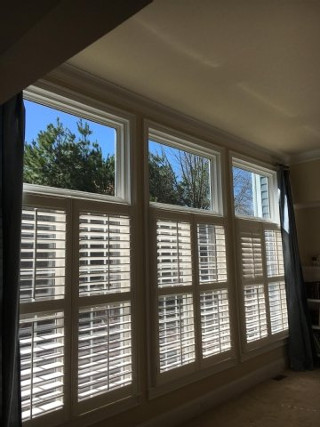 ---

jdintlh
Reviews: 1
5 star rating
Fantastic Experience!
We could not be more happy with our ENTIRE experience with Pinnacle Window and Siding. John Fitzgerald was a very knowledgeable about all of their products and even brought the samples back a second time at our request so that we felt comfortable with our choices. Our windows arrived in the time frame promised; we did not pay one cent until the installation was completed to our satisfaction. Installation by Hector and Rafael was fantastic; the dynamic duo! Professional, friendly, thorough and detailed, they worked for 1 1/2 days to install the windows and complete the finishing. My husband, who is a very discerning critic, was totally impressed. He kept texting me about how wonderful everything looked and how pleasantly surprised he was that the installation was so smooth. We had a few windows with rotten wood; those were replaced at part of the installation, so no hidden or extra costs. At the end of the first day, I received a call from Pinnacle's owner, Lee Fuller, who wanted to check and make sure that everything was to our satisfaction. I told him he has an A+ team and installation crew. Pinnacle Window and Siding (not to be confused with another company with a similar name and super cheapo products) is the best in metro Atlanta. Great job!
PROJECT DETAILS
Replacement of 18 double hung windows with Okna Soft Lite windows
AREA:
Alpharetta, GA
COST:
$5,000 - $9,999
DATE:
September 2017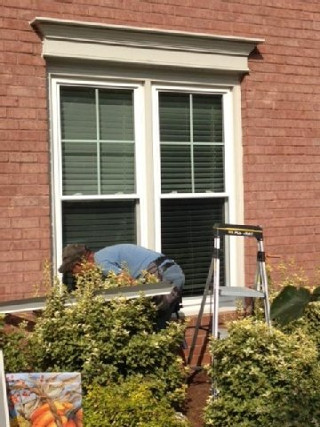 ---
---

Jonathon_
Reviews: 1
5 star rating
Awesome Job!
Pinnacle Window and Siding did an amazing job. They replaced all of my windows with Softlite casement windows and all I have to say is wow! The crews are very knowledgeable, friendly, dedicated, and hard workers. I couldn't be any happier with the phenomenal work they did. Excellent company and one that I would highly recommend.
PROJECT DETAILS
Pinnacle Window and Siding came out and replaced all 33 of the old 1989 windows in my house with Softlite vinyl casements. Performed an amazing job. The windows are absolutely beautiful and 1000 times better than the old ones. Pinnacle performed and excellent job with a great attention to detail.
AREA:
Peachtree City, GA
COST:
$25,000 - $29,999
DATE:
August 2017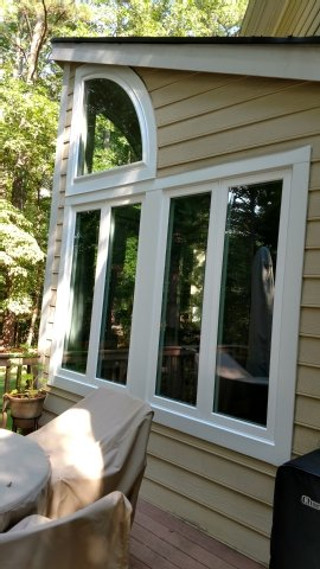 ---

granteth
Reviews: 2
5 star rating
Amazing job. Couldn't be happier
Pinnacle Window & Siding did a phenomenal job with our windows. Their staff is professional, knowledgeable, and quick to respond. Our sales agent, Dennis, was straight-forward and honest. A 30-year veteran in the industry, he can provide any and all answers. I went to great lengths to research and review many companies in the north Atlanta area prior to moving forward with Pinnacle. Not only do they offer top notch products, with the best install team, but their prices are very fair. I cannot say enough positive things about the entire process. They did an amazing job and the pictures do not do it justice. Windows are a large and important investment. Do your homework but I would highly recommend using Pinnacle.
PROJECT DETAILS
Entire replacement of all (44) 20+ year old wood windows. Multiple sizes and custom fittings. Amazing job.
AREA:
Woodstock, GA
COST:
$20,000 - $24,999
DATE:
April 2017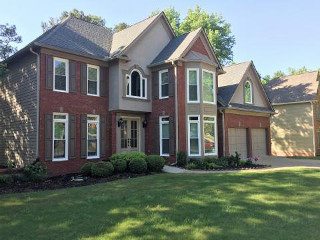 ---

kudzugab
Reviews: 1
5 star rating
Fantastic work
We had Pinnacle replace windows and doors. They have been wonderful to work with from start to finish. Dennis was a professional and very knowledgeable about all aspects of the products offered. He was very patient with us as we considered different options for our doors. Steven, Robert, Kevin, and Jason were true craftsmen who did fantastic work. We will be using them again to replace more windows in the near future.
PROJECT DETAILS
AREA:
Marietta, GA
COST:
$15,000 - $19,999
DATE:
February 2017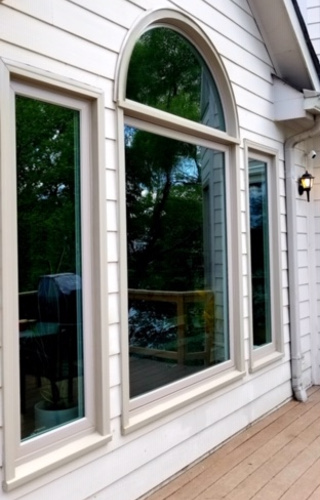 ---
---

JETMOM
Reviews: 2
5 star rating
Great experience
Excellent. The sales rep came out promptly after I called and answered all my questions, the owner came out to do the measurements and I was kept informed all along the way about the order and scheduling. The original windows were about 25 years old, difficult to remove and there was decayed wood in many of the frames which was all replaced (even on frames on windows that were retained (garage and picture window)). The job was not easy and took longer than expected - the crew was excellent, patient and took care of every detail. You could tell that they care about the quality of the work and would not leave until they were satisfied. The new front door (and storm door) are very nice and I have already received compliments. We can tell the difference in the house already! The owner called twice (once during and again after the job was done) and this customer service is great!
PROJECT DETAILS
19 windows and front entryway replaced.
AREA:
Cumming, GA
COST:
$10,000 - $14,999
DATE:
December 2016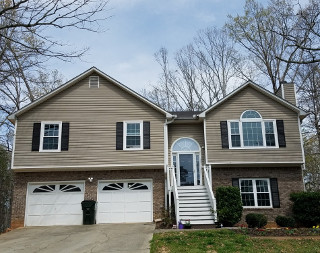 ---

eresidentc
Reviews: 4
5 star rating
Great Experience from Sales to Installation
We interviewed four companies to replace all the windows in our home and selected Pinnacle because of the product (Soft-Lite Elements), price (neither highest or lowest), but most importantly - installation process. Dennis (sales) walked us through window options and explained how Pinnacle works. He answered our follow up questions after the initial sales call. Nancy kept us informed about the manufacturing schedule and coordinated the installation date. The installation crew was fantastic: Steve, Robert, Jason, and Kevin. The job was completed in one day and when they started the wind chill was 19 degrees. They repaired some unexpected wood rot on three windows; measured and installed metal cladding around all the windows, sealed everything to prevent water penetration, and left a clean job site. A meticulous, efficient, and professional installation. We are very pleased.
PROJECT DETAILS
AREA:
Marietta, GA
COST:
$10,000 - $14,999
DATE:
December 2016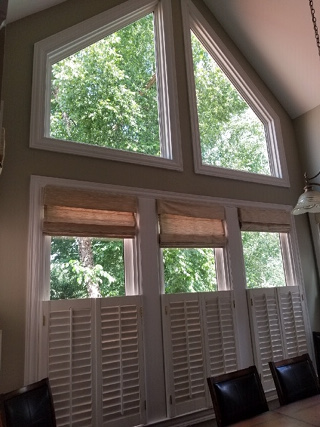 ---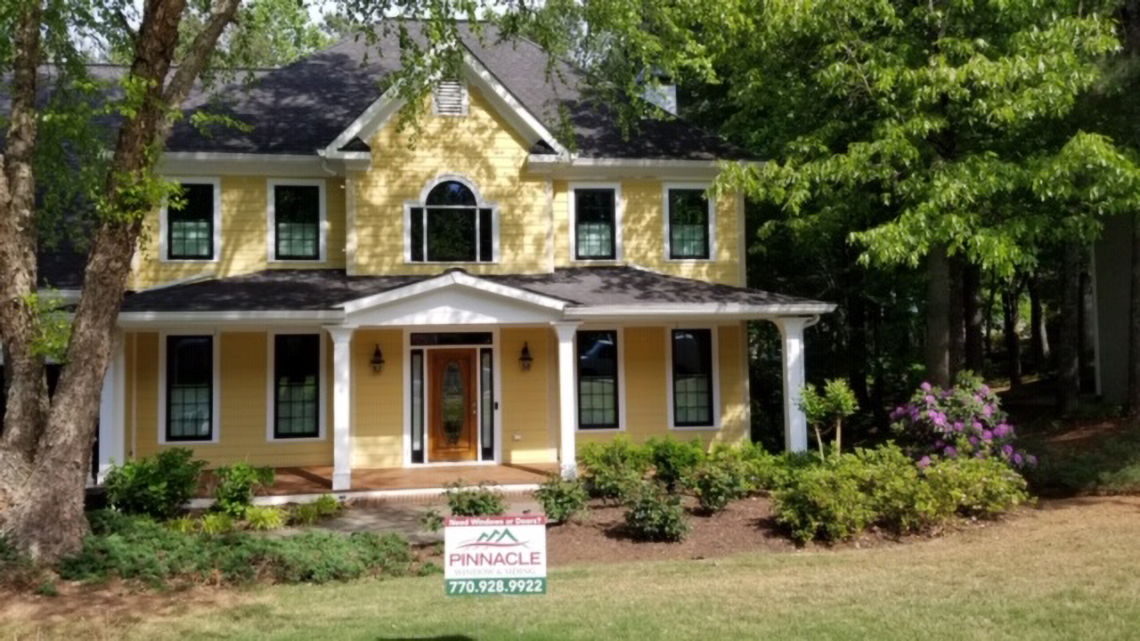 ---

kdchampion
Reviews: 1
5 star rating
Excellent Company & Products
I purchased 30 windows from Pinnacle and they were installed a little less than a month ago. I went with the Okna Insul-tec windows as they're a great high end vinyl option. I was extremely pleased with the installation performed by Steve and Robert. They finished install in 1 day and cleaned up all debris and even went through and cleaned up the windows and rehung blinds. I have another 15 windows or so to replace and will use Pinnacle again and I will also consider them when replacing my siding in the next few years.
PROJECT DETAILS
AREA:
Alpharetta, GA
COST:
$10,000 - $14,999
DATE:
August 2016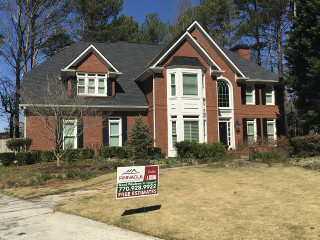 ---

Troopie
Reviews: 1
5 star rating
Best Contractors Who Ever Worked For Us!
Everyone who handled our French door replacement with a beautiful sliding door is to be commended for being so professional and respectful of our needs. I would recommend Pinnacle to everyone as their price and superior quality of our new door could not be beat by any of their competitors. Mr. & Mrs. R. H.
PROJECT DETAILS
AREA:
Marietta, GA
COST:
$3,000 - $4,999
DATE:
May 2016
---
---

smandel
Reviews: 3
5 star rating
Quality, Professionalism, Value
I had the best experience working with Pinnacle Windows. It started out with Lee coming out and showing me different windows and explaining the various features. He was so laid back and knowledgeable and took time to get my questions answered and was not at all high pressured like the other people I had met with prior. I am a QA Analyst and ask a lot of detailed questions but Lee was very patient and it was very apparent that he stands by his products and wants his customers to be happy with their selection. Steve installed our windows and did an amazing job. He is very meticulous and it showed. His diligence and the amount of time he spent on the install indicated his professionalism. I was not sure whether or not I wanted to get the windows capped with aluminum cladding so Steve built one out for me so I could see what it would look like. I opted to go with the cladding and I'm glad that I did. Also, Steve left my place neater than when he arrived. It was a great experience working with Pinnacle and I'm very happy with the windows and the install. I feel that the quality of the windows are superior to many others I saw after doing significant research on window forums, and the overall value is better than the other companies I had met with. Not to mention working with such a top-notch group of people who really value their products and customers. It was truly a pleasure working with Pinnacle and have peace of mind knowing they will be there should the need arise.
PROJECT DETAILS
Replaced all windows in the house and capped the brick molds with aluminum cladding.
AREA:
Roswell, GA
COST:
$5,000 - $9,999
DATE:
June 2016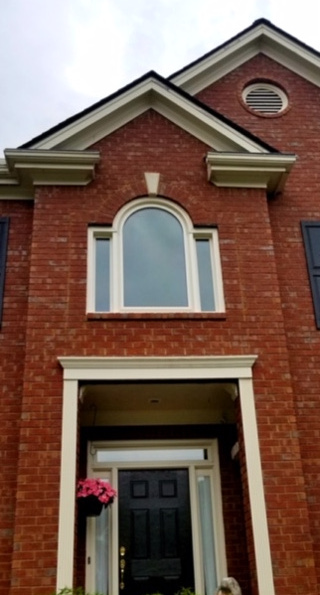 ---

theard
Reviews: 3
5 star rating
Window Replacement
Dennis and Robert made the process very easy. We saw Pinnacle on Kudzu.com and noticed all the great reviews. Dennis came out to our house and was very easy going. No real pressure. He was very responsive on e-mail and answered all our questions and was very patient. He gave us a list of homes that they had replaced windows on for us to do a drive by to see how we like the windows. We replaced 38 windows in our house. My old windows were over 20 years old and needed replacing. The crew that came to the house were very friendly and works very hard to install all the windows over a two day period. Cleaned up after themselves and reinstalled all the blinds. Our Element windows look great. Thank you to Dennis, Robert and the team.
PROJECT DETAILS
DATE:
July 2016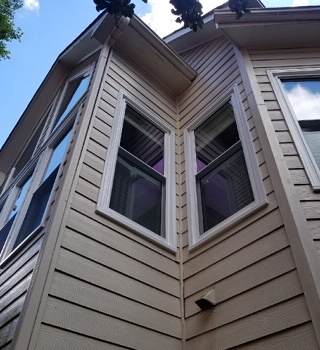 ---

bobb30004
Reviews: 2
5 star rating
Door replacement
We had Pinnacle replace our front and back doors. The whole process was simple. We called to make an appointment with Dennis to come out and show us his products. His sales approach was very easy going with no upsale or you need to sign today to get a special price. Dennis took the initial measurements and we received a quote the next day via email. It was nice that the estimate included picture of the front and back views of both doors. We reviewed the contact and we signed after a couple of days. After I signed the owner Lee came out and took the final measurement for the door order. I was impressed that both doors were being made to order. The back door was a special order because of the size. The doors arrived at their location and I was called to setup installation. The installation team showed up on that date and on time. They were very professional and kept the work area extremely clean. The final product surpassed my expectations and will come back to them when I am ready to replace my windows.
PROJECT DETAILS
Pinnacle Window and Siding can in and replaced my builder grade front and back doors. Pinnacle was able to find a door design to match my old door so I would not have an issue with my HOA. The back door was the biggest transformation from a 8 foot sliding glass door with a doggie door insert to a 8 foot french door with a factory installed doggie door. The installation group is the best. I can't speak highly enough about this. I will always go back to Pinnacle.
AREA:
Alpharetta, GA
COST:
$5,000 - $9,999
DATE:
June 2016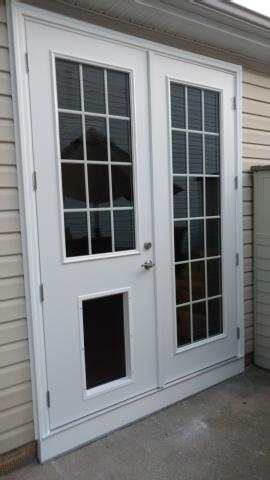 ---

szwatzman
Reviews: 2
5 star rating
New Windows
We selected Pinnacle for our new windows based on the recommendation of a co-worker who used them within the past year. We also had four other recommendations from our neighbors who had replaced their windows within the past year. Pinnacle did not disappoint from the sales process (no BS) through the installation process (courteous & professional). They were the only company that said they could replace the rectangular fixed and half round windows above our master bath tub when other companies said that they could not do anything with it or just replace the rectangular window. Pinnacle was a pleasure to deal with and I would not hesitate to recommend them.
PROJECT DETAILS
We replaced all 31 windows in our house with the Soft-Lite Elements windows. The installation took two full days plus an extra day (3 hours) to replace the windows above the master bath tub. It was a difficult job due to the slant of the roof, but Pinnacle got it done. The new windows are amazing. We get full sun in the front of our house from late morning to sunset and the new windows "filter out" the heat build up (solar heat gain). It is particularly noticeable with our two large bay windows.
AREA:
Roswell, GA
COST:
$10,000 - $14,999
DATE:
April 2016
---
---